Sound and Alerts Tab
From Pray Times
Sound and text alerts notifying prayer times can be customized in this tab.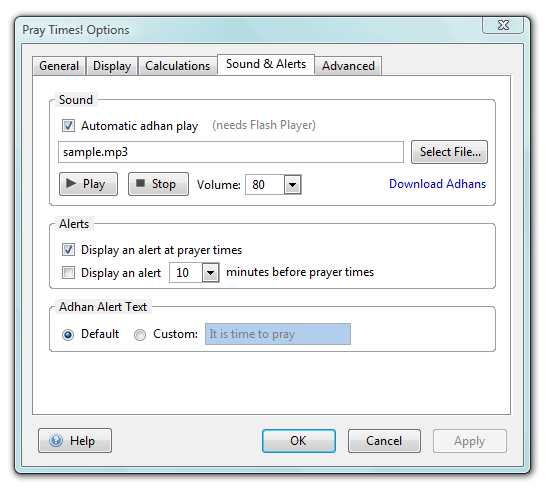 Sound
You can enable automatic adhan play if you have Flash Player installed on your browser. When enabled, a mp3 file that you select is played at adhan times.
A small mp3 file, called sample.mp3, is contained in the add-on and is set as the default sound. You can change it with any adhan mp3 file your desire. You can also choose from the mp3 files listed in our adhan audio page.
Notes:

Adhan times are Fajr, Dhuhr, Asr, Maghrib, and Isha. If any of these adhan times is disabled in the Display Tab, the adhan sound for that time will not be played.
Alerts
You can choose to receive an alert at prayer times and/or an advanced alert few minutes before prayer times.
Adhan Alerts Text
You can customize the message shown in the alert at adhan times. It can be either the default text, or a custom text specified by you.