Main Page
From Pray Times
Welcome to Pray Times, an Islamic project aimed at providing algorithms to calculate Muslim prayers times.
The first version of Pray Times was released in early 2007. The code is currently used in a wide range of websites and applications.
Code and Manual
Firefox Add-on
Pray Times provides a Firefox add-on to display daily prayer times.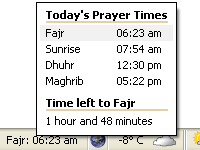 Features:
Various methods of time calculation
Countdown to each prayer time
Automatic playing of Adhan sound
Supporting all locations around the world
Local calculation of prayer times (no connection to Internet is needed)
See Also
Adhan Audios: A collection of famous Adhan audio files
eQibla: An easy tool to find qibla direction worldwide
Tanzil: Quran with various translations and recitations